The Institute of Kurdology (IKW) has started the publication of an encyclopedic collection
of works of oral tradition of the Kurds in 25 volumes.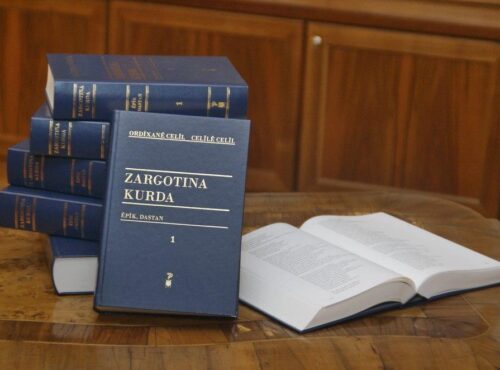 The Kurdish Institute for Encyclopedic Oral Tradition has undertaken a massive project to compile a comprehensive collection of the Kurdish people's oral history and heritage in 25 volumes. This is a monumental undertaking that is being led by Professor Dr. Ordîxanê Celîl, a literary scholar; Professor Dr. Celîlê Celîl, an ethnologist; Cemîla Celîl, a composer and musicologist; and Zîna Celîl, a translator and literary critic. These individuals have dedicated more than sixty years of their lives to studying and researching the Kurdish people's culture and society.
The 25-volume collection covers all regions of Kurdistan (Turkey, Iranian, Iraq, and Syria), as well as neighboring countries such as Armenia and Georgia, and even Central Asia, including Kazakhstan and Kyrgyzstan. The collection encompasses a wide range of genres, including epic poetry, folktales, historical songs, laments, love songs, qewl and beyt of the Yazidi, religious and mystical poetry, heroic ballads, war stories, short stories, children's stories, proverbs and anecdotes, oral histories, work and labor songs, drinking and wine songs, and seasonal and festive songs.
The scholarly methodology used for preparing, classifying, and preserving the Kurdish oral tradition includes a comprehensive review of the literature, classification of the oral works, determination of the number of volumes required, and preservation of the Kurdish oral heritage. Each aspect of this project involves a rigorous scientific approach, including the study of songs, especially dance and lullabies; an extensive survey of literature, a detailed bibliography of the encyclopedia series is also published.
Each volume includes photographs, geographical maps, and a glossary of colloquial and unfamiliar terms.
For placing orders, please contact the "Institute of Kurdology".
Tel: 0043/2773 42 555 oder 0043/676 793 73 74, e-mail: birgitcerha[at]yahoo.de
Preis: Euro 30.– (Versand Euro 10.–);
Please make advance payments for orders to the following account:
IBAN: AT07 3266 7000 0121 2323, BIC:RLNWATWWPRB